Your Pure Charity dashboard is your mission control center for accessing all of the resources and fundraising tools available to you on Pure Charity.
When you login into Pure Charity, you will immediately land on your Pure Charity Dashboard where you can:
Edit your profile.
Track all of your transactions and interactions within our site
Download Year End Statements
Navigate features that are unique to you
Start a fundraiser
Access your Trip Fundraiser and Requirements
Access your Nonprofit's Dashboard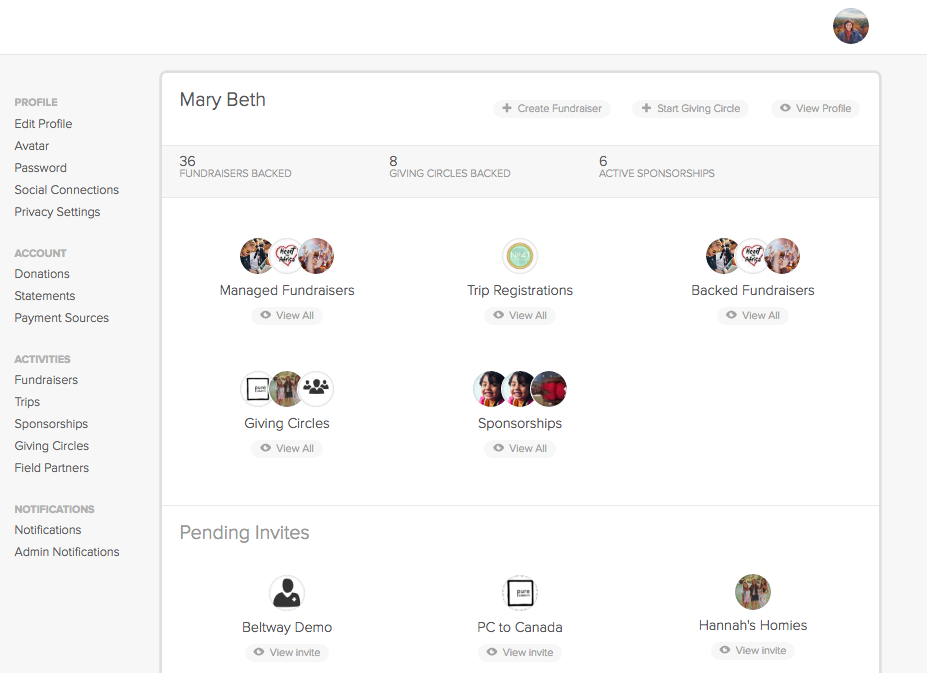 The first section labeled "Profile" is where you can edit information pertaining to: 
Your name
Your address
Your email address
Your profile picture, or "avatar"
Reset your password
Connect your Facebook account if you would like to login to Pure Charity with Facebook
Manage your Privacy Settings where you can select what information you share with nonprofits
The second section, "Account" is where you can:
View your donation history
Manage your recurring donations (resume donations, edit draft dates, or cancel recurring donations)
Download year end statements
Manage your payment sources (edit an existing card, add a new card, delete a card, or mark a card as primary)
The next section, "Activity" is where you can:
Access fundraisers you've created or been added as admins to
Access sponsorship profiles that you sponsor
Access trip registrations and fundraisers for trips you're attending, or trip admins on
Access giving circles you are a part of
*Please Note: You will only see features you have activity with. Ex: If you are in not in a Giving Circle, you will not see that on your Dashboard like the image above
The last section, "Notifications" is where you can: 
Manage your personal notifications (ex: what emails you receive from Pure Charity)
Manage your admin notifications (ex: if you would like to receive an email when a new sponsor signs up)
Still need help, reach out here help@purecharity.com.