Your Nonprofit has the ability to use your brand/logo in key areas of the User/Donor Experience.
These include Donation Screens with Custom Links, Images, Background Colors, Text Colors, and Button Colors that make Donors feel like they have never left your website. 
Setting your Custom Header Design will change your Donation Checkout screens across all features.  This includes your Field Partner Dashboard, Individual Fundraiser dashboard, and your Donor's receipt(s).
Follow these steps to set up your custom header design:


Step 1: Sign into your Pure Charity Account or click this link https://www.purecharity.com/signin


Step 2: Click the Field Partner bubble above Managed Field Partners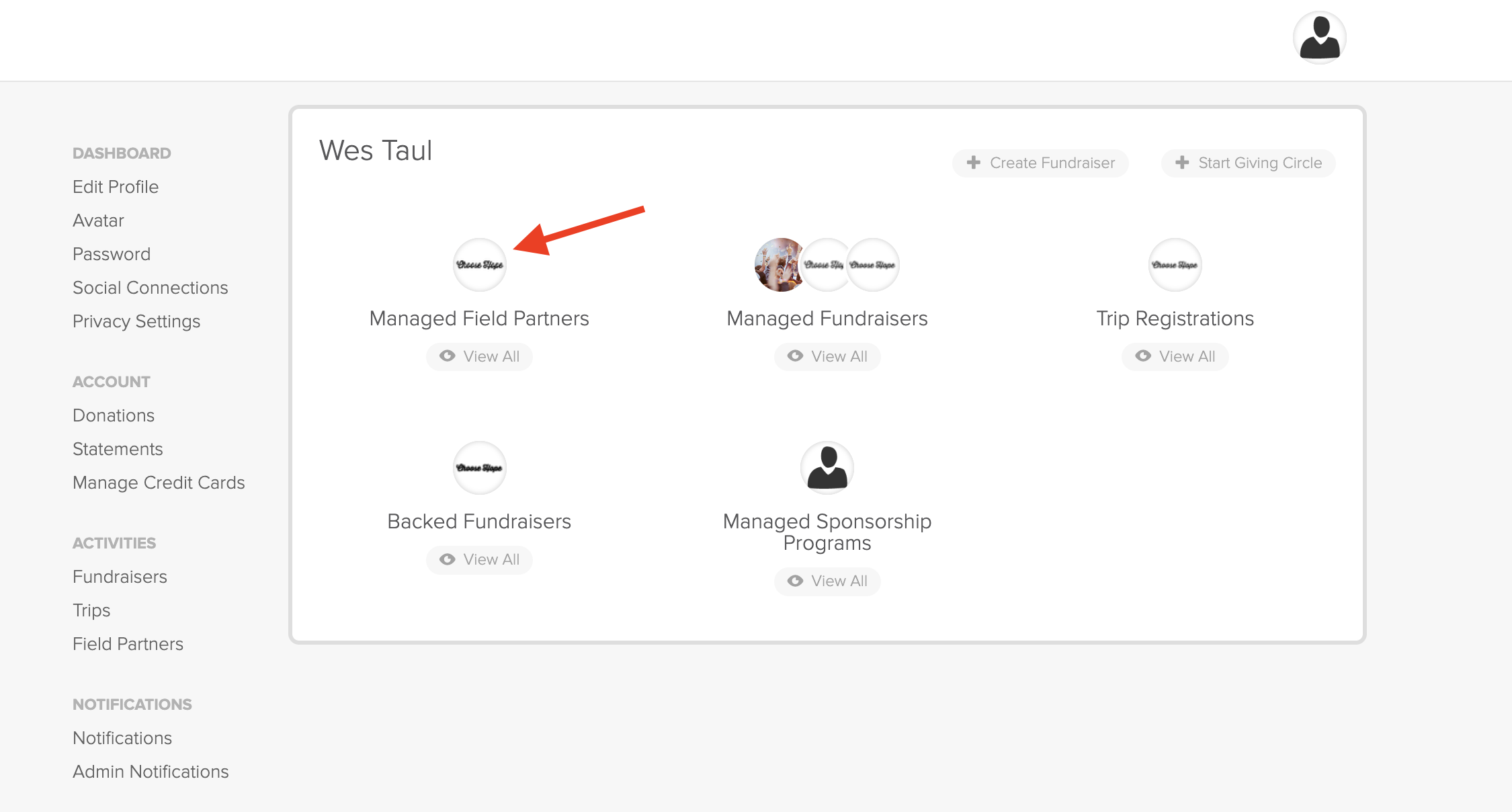 Step 3: From your Field Partner dashboard, select "Custom Design" on the left-hand menu.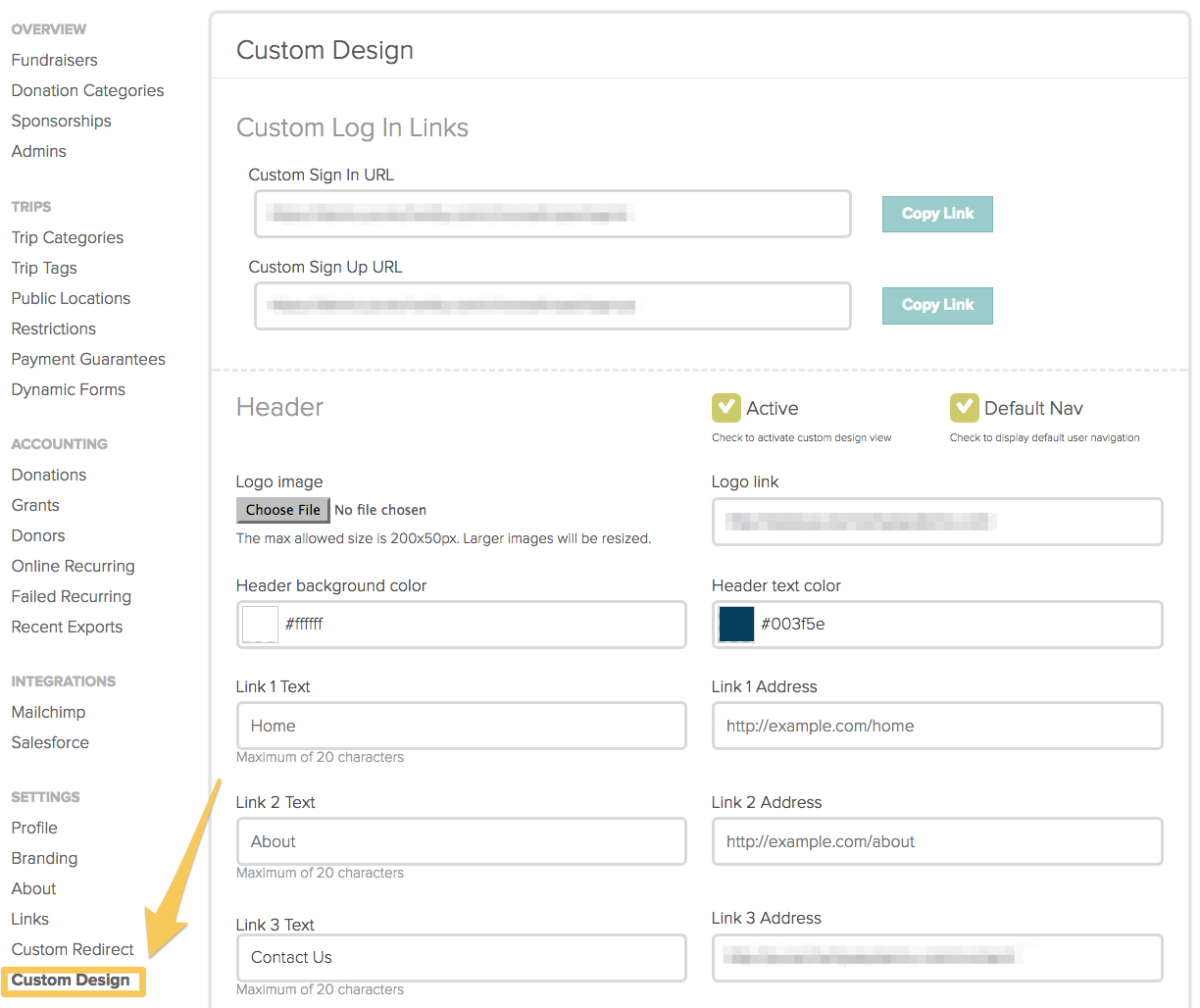 Step 4:  Upload your logo, then link your logo to the appropriate web page (Usually, this will be your organization's homepage).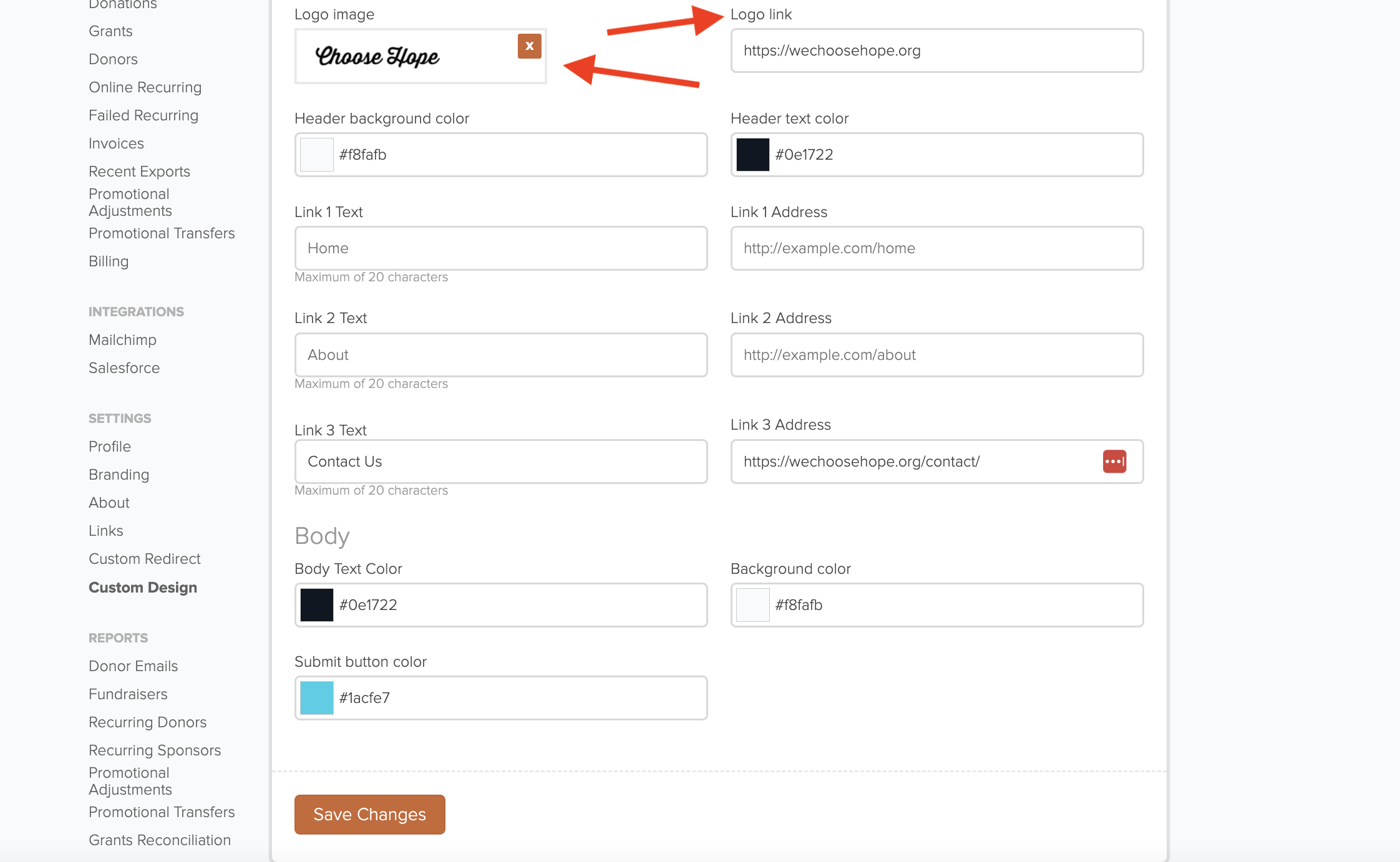 Step 5: Choose your Header Background and Text Color. Usually, this color is the same color as the color of your logo, but sometimes it's something else. The color values are hexadecimal.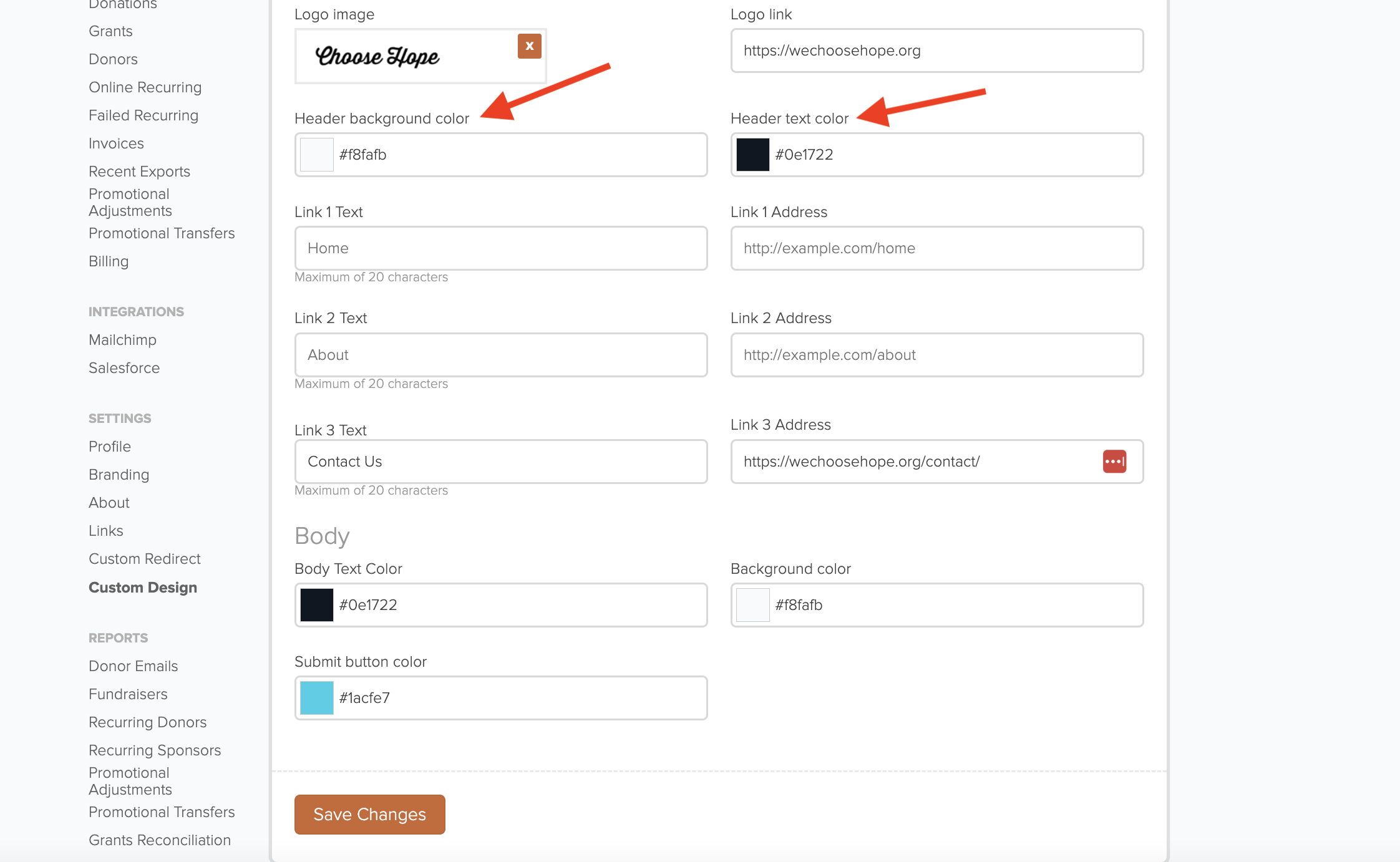 (Not sure what your hex color values are? From the Google Chrome browser, you can right-click on your webpage and click Inspect. This will bring up a lot of code. If you're not used to seeing this, don't panic. At the top of the menu that opened on the far left-hand side is a small square with an arrow pointing into it, when you hover over this icon, it should say, "Select an element in the page to inspect it." Click this icon, then click on any image or text or background you want to find out the color of. The color will be listed on the bottom right corner of the window that popped up when you clicked Inspect. If you don't see it right away, select the arrow beside the word Color to drop down the menu and see the color values listed there. You'll want to match the header background color to whatever color the menu bar on your website already is. Same with the header text color—go ahead and match it with the text color of your website's menu bar.)


Step 4: Enter any additional buttons with their corresponding web address that you would like to show in the header.  This will create redirects back to other features (i.e. Home, About, Contact Us, etc.). We strongly encourage you to only use one link, because once someone is on a Donation checkout screen we don't want them to have a lot of options to click away. We would highly recommend adding a link to your personal help desk so that if donors have questions about their gift, they can easily be connected to your organization.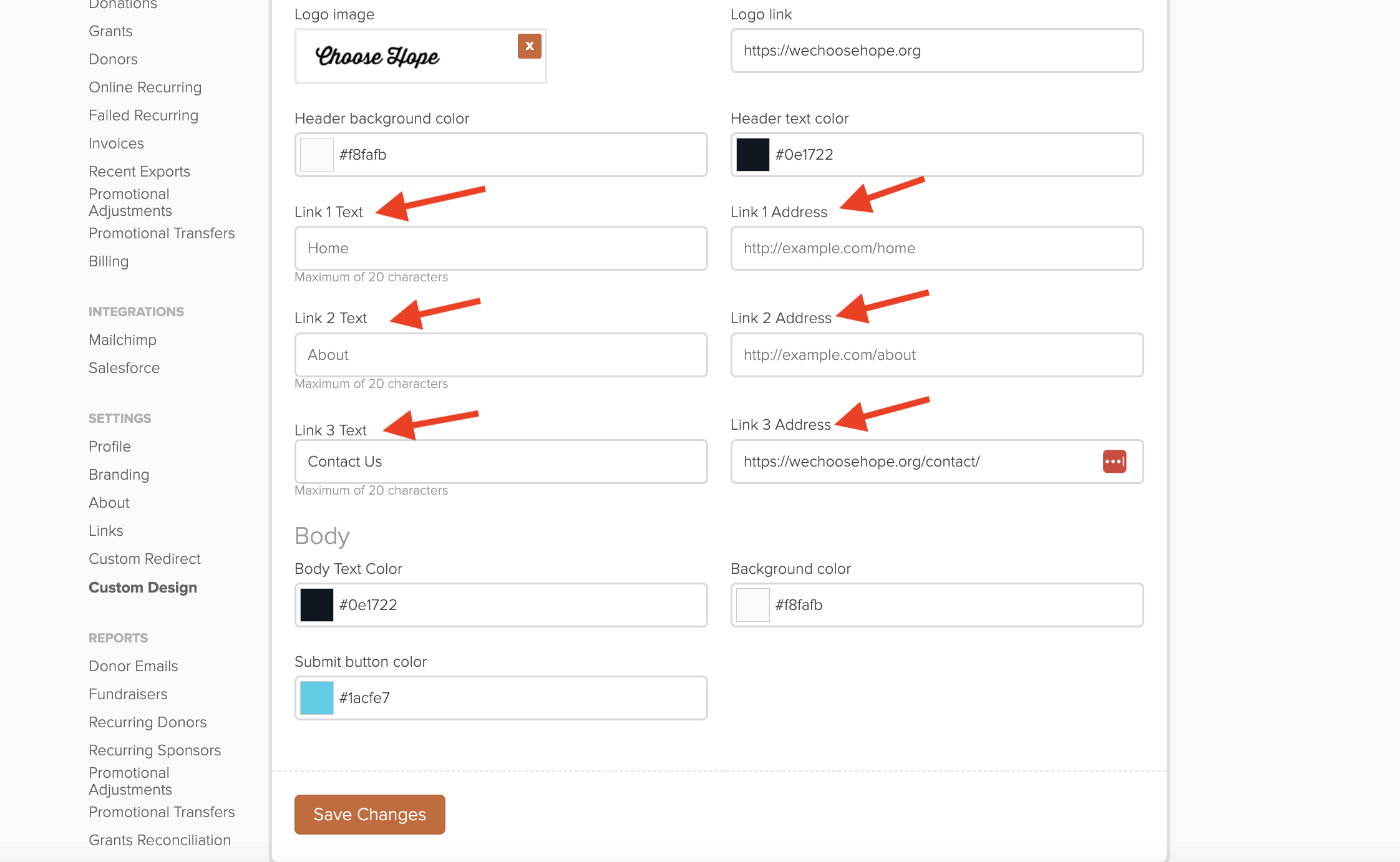 Step 5: Choose the color of the body text, background, and submit button.  Click Save Changes and you are all set!

As a best practice, the color of the submit button matches the color of the header background. Use the color inspection tools to match the text and background color to the text and background color on your current website.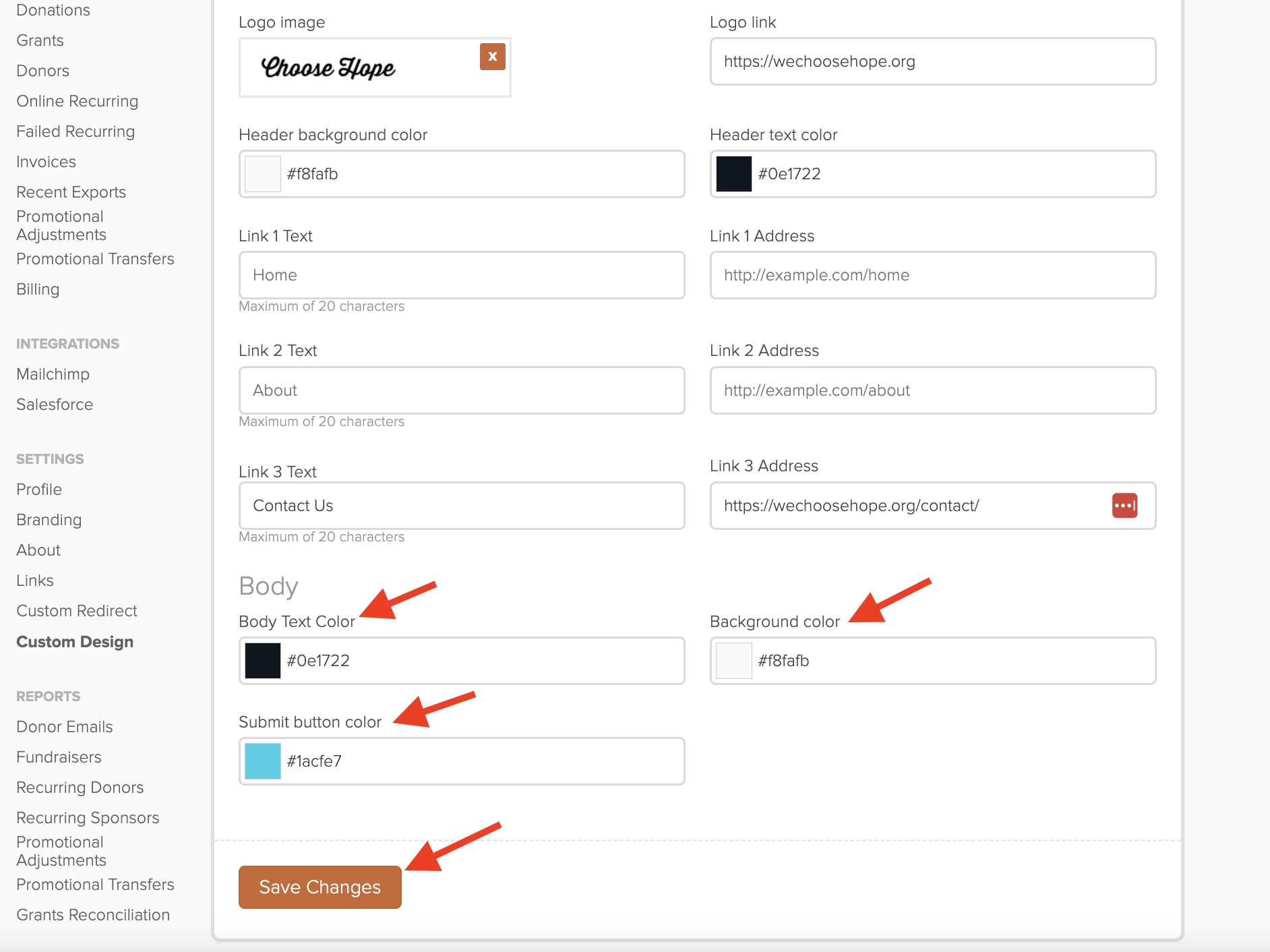 Still need help, reach out here help@purecharity.com.