As an admin of your Nonprofit Organization, you have the ability to download 4 different Donor Reports from your organization dashboard.
The 4 reports available are:
Donor Email Report
Fundraiser Report
Recurring Donor Report
Recurring Sponsor Report



These reports are found on the Nonprofit Dashboard under the "Reports" Tab

 

Step 2:  From your User dashboard, select "View All" under Managed Field Partners and select the proper organization. 

This will direct you to your Field Partner Dashboard.

 

Step 3:  From your Field Partner Dashboard, scroll to the bottom of the menu until you see the Report section.  Select the report you need. 



Step 4:  Enter the date range and status (if applicable) that you would like the report to generate.  Select "Generate".  Once the report is done you will see a message at the top that says "Report generated successfully".  You can then select "Download" to download the file as a CSV.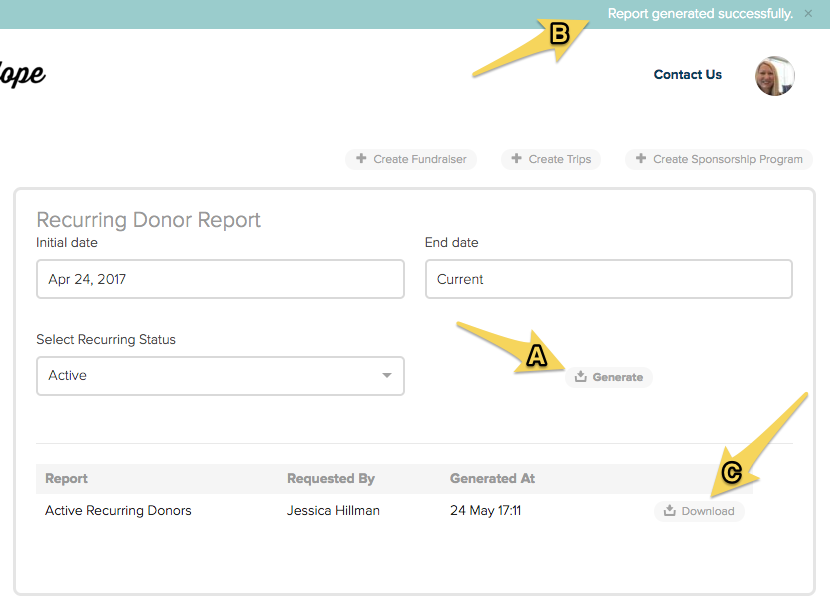 PLEASE NOTE:  Depending on the report you're running and the length of the date range, the report may take time to generate.  Please be patient while the system works for you. 
If a sufficient amount of time has gone by, then you can try to refresh your screen for the report to appear.
Donor Emails
Data included:
Donor's First Name
Donor's Last Name
Donor's Email address.
Fundraisers
This report includes all of the fundraisers that are associated with your organization.
Data Included:
Fundraiser Name,
Fundraiser Reference ID (this is used as the unique identifier when sending a check)
Fundraiser URL
Funding goal status.
Sample Report: 
Recurring Donors
This report includes all detailed information on ALL of your Recurring Donors including General Donations, Specific fundraisers or Sponsorships.
For this report, you have the option to view Active donors or Canceled donors. Both reports include information such as
Donor name
Donor Contact Information (i.e. Email)
Fundraiser/Program Name benefiting
Donation Qmount
Donation Date
Donation Status
Next Donation Charge Dates and more!
Sample Report: 
Recurring Sponsors
This report includes all detailed information on your Sponsorship Recurring Donors - active or canceled.
For this report, you have the option to look at all sponsorship programs or a specific program, as well as, active donors vs canceled donors.
All reports include information such as donor name, donor contact information, sponsorship program name, sponsorship profile, donation amount, sponsorship status, next charge dates, and more!
Sample Report: 

Donations Report

This report is not located under the Reports Tab but is a highly valuable report that includes all of the available data on each donation made Including the name, address, donation amount, type of donation, if that donation has been granted if the donation is recurring and much more. If your looking for a complete donor record on each donation this is the report you want to pull. 

Step 1: Click Donations under the Accounting tab on the Partner Dashboard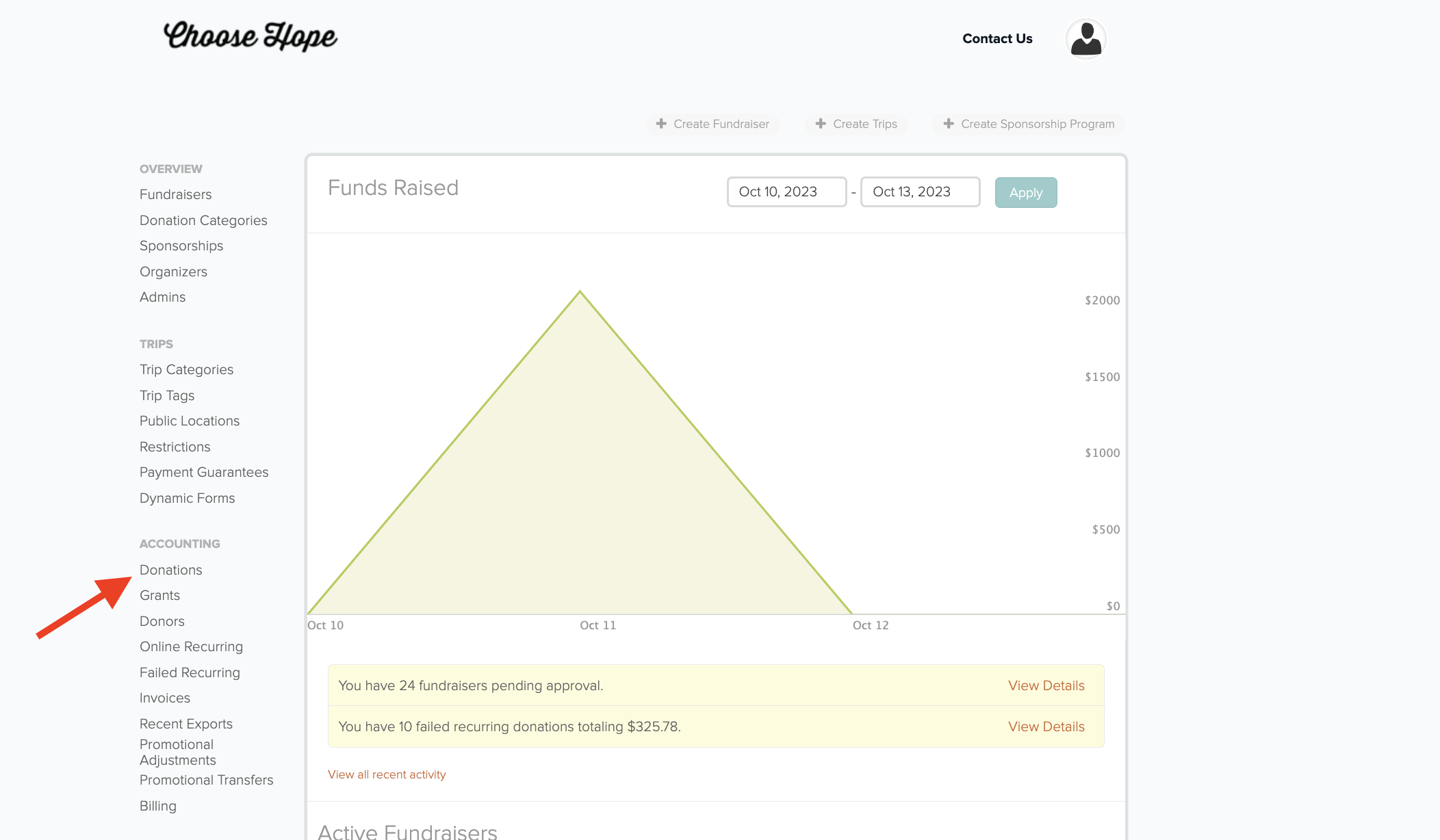 Step 2: Filter the donations using the Date Selector, then click Filter Donations and then click Download CSV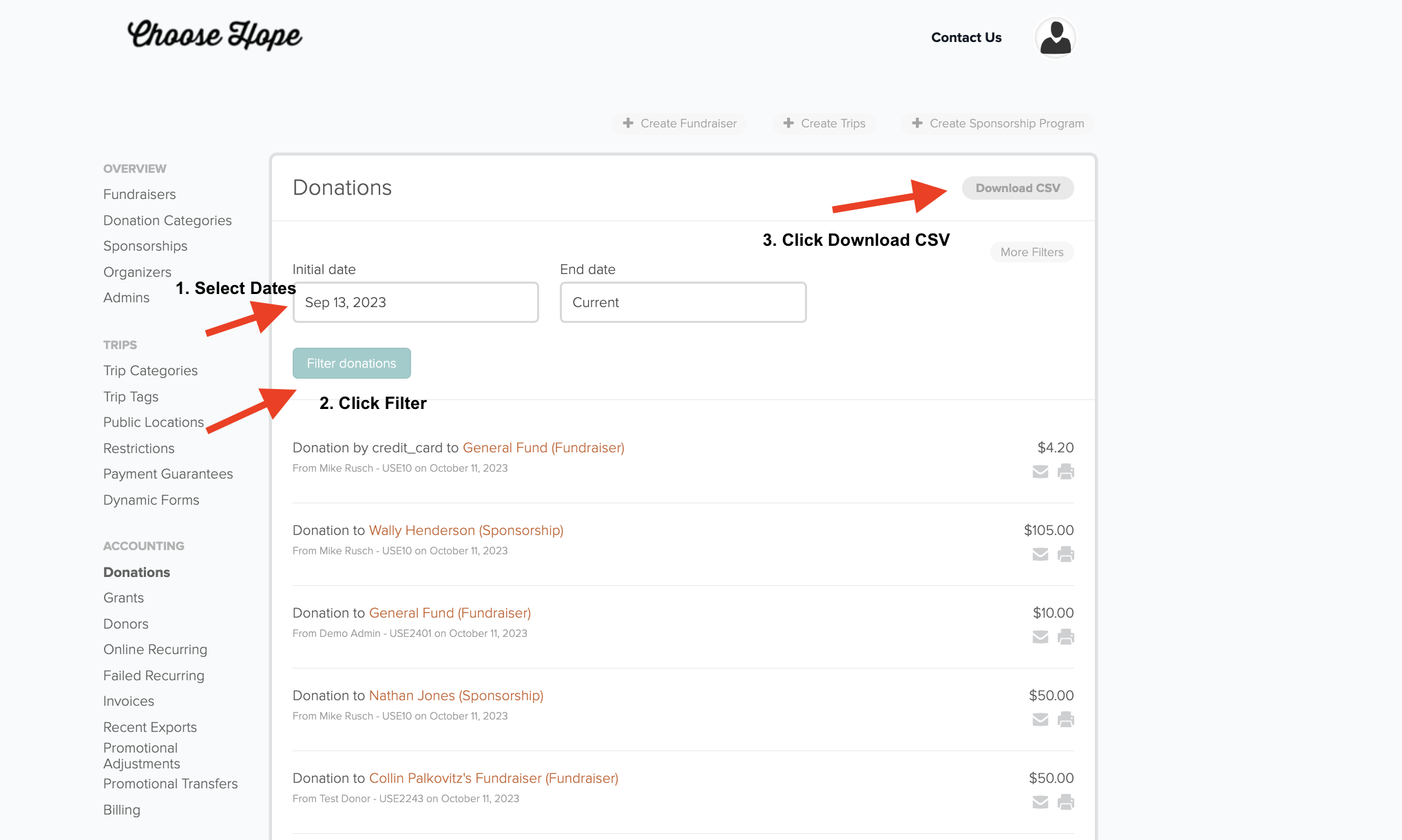 Step 3: The report will be sent to your email. Where you can open it in Excell or Google Sheets and filter the data as needed.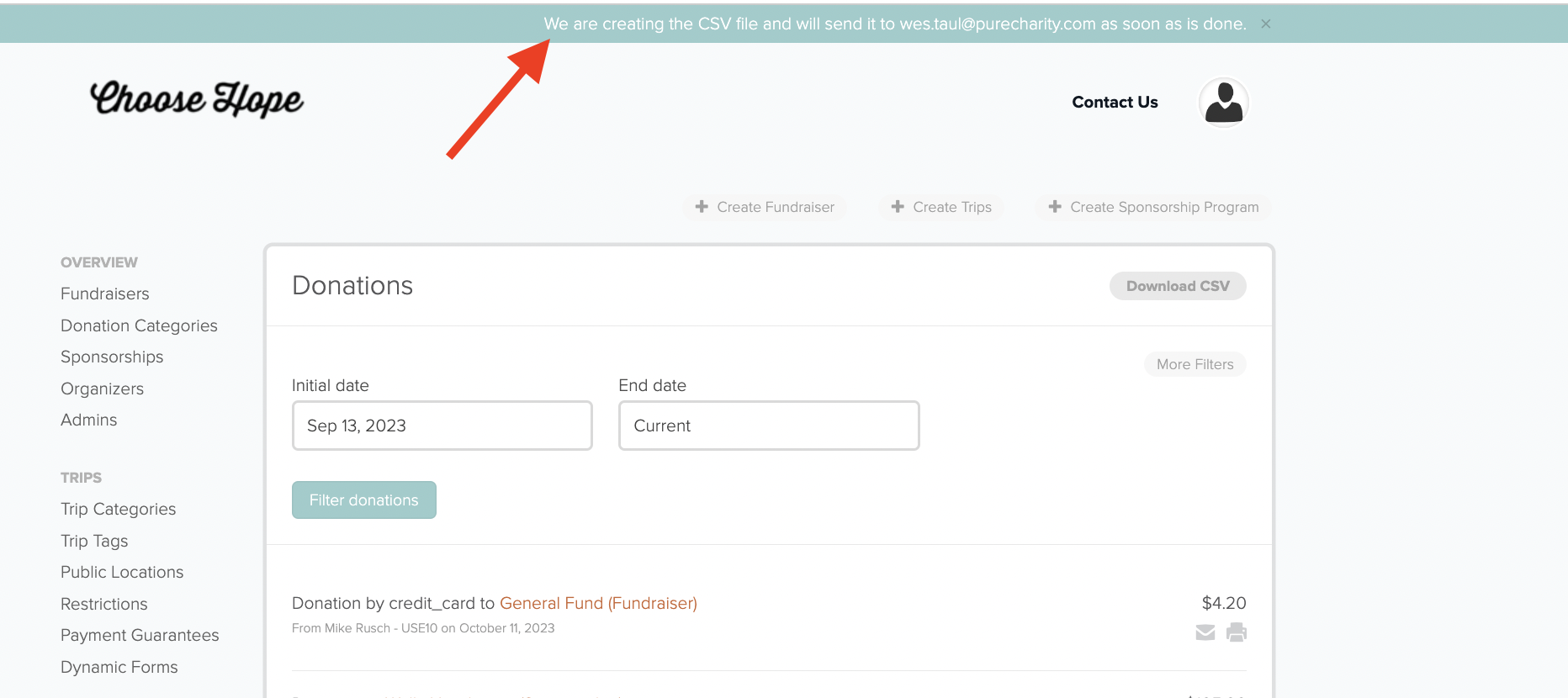 Still need help, reach out here help@purecharity.com.